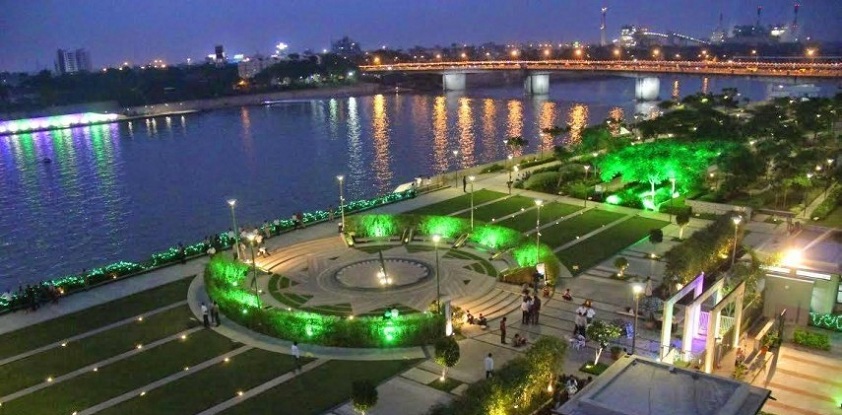 Did you know : Ahmedabad is the fifth-most-populous city in India.
There are nine bridges on the river Sabarmati that connect the eastern and western regions.
Sardar Patel Stadium(Gujarat), a cricket stadium with 54,000 capacity, in Motera, Ahmedabad.
Area : 464 km²
Elevation : 464.165 km2 (179.215 sq mi)
Population : 5.571 million (2011)
Time zone : IST (UTC+5:30)
Ahmedabad, in western India, is the largest city in the state of Gujarat. The Sabarmati River runs through its center. On the western bank is the Gandhi Ashram at Sabarmati, which displays the spiritual leader's living quarters and artifacts. Across the river, the Calico Museum of Textiles, once a cloth merchant's mansion, has a significant collection of antique and modern fabrics.
Founded by Sultan Ahmad Shah in 1411 AD, Ahmedabad, in the state of Gujarat, has grown into one of the most important modern cities of India.
Straddling the Sabarmati river, this prosperous city of six million is a delight for archeologists, anthropologists, architects, histsorians, sociologists, traders, bargain hunters, and plain tourists.
Dhekho Ahmedabad is providing the best service as travel company since Many Years. From last Many years Dhekho Ahmedabad is consistently providing their top level service to their customers. We would like to introduce ourselves as the leading Ahmedabad based Travel & Tourism Company, offering a wide array of travel services to the Individual tourist, families & groups & Corporate Sector. Since last Many year we are continuously striving to improve our service facility system so that customers get memorable tour.
Ahmedabad is divided by the Sabarmati into two physically distinct eastern and western regions. The eastern bank of the river houses the old city, which includes the central town of Bhadra. This part of Ahmedabad is characterised by packed bazaars, the pol system of closely clustered buildings, and numerous places of worship. A Pol (pronounced as pole) is a housing cluster which comprises many families of a particular group, linked by caste, profession, or religion.